May's Glaceon was given her to as a gift from some daycare Pokemon egg workers and is her seventh Pokemon overall.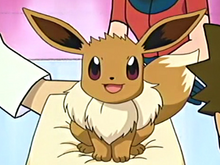 May received Glaceon as an egg from Pokemon Daycare egg workers and she became a major part of May's team. Glaceon then evolved into a Eevee. Eevee was loyal to her trainer and often was used in Pokemon contests. In King & Queen For A Day, Team Rocket tried to steal May's Eevee, Ash's Pikachu, and Brock's Bonsly to take to the boss for some money, but they were rescued by their trainers. May used Eevee many times to send Team Rocket blasting off. Before the Diamond & Pearl series, she evolved into Glaceon. She helped her trainer send Team Rocket blasting off.
Personality
Edit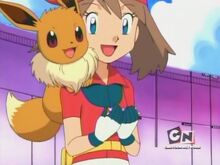 Glaceon as an Eevee was loyal to her trainer and cares about her very much. She loves to impress her trainer and often helps May win Pokemon contests.
Ad blocker interference detected!
Wikia is a free-to-use site that makes money from advertising. We have a modified experience for viewers using ad blockers

Wikia is not accessible if you've made further modifications. Remove the custom ad blocker rule(s) and the page will load as expected.